Afonso Gomes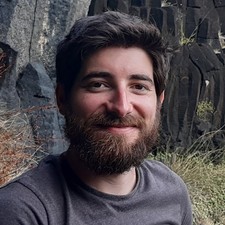 TS Tectonics and Structural Geology
The 2023 Outstanding Student and PhD candidate Presentation (OSPP) Award is awarded to Afonso Gomes for the poster/PICO entitled:
2D numerical modelling of Tethyan-type ophiolite emplacement: The role of overriding plate age, serpentinization, and OCT width. (Gomes, A. S.; Rosas, F. M.; Duarte, J. C.; Riel, N.; Schellart, W. P.; Almeida, J.)
Click here to download the poster/PICO file.
Afonso Gomes is a final year PhD student at the Faculty of Sciences – University of Lisbon (FCUL, Portugal) and is carrying out his research at Instituto Dom Luiz (IDL, Portugal). He is supervised by Filipe Rosas (FCUL, IDL), João Duarte (FCUL, IDL), and Nicolas Riel (Johannes Gutenberg University Mainz, Germany).