Alina Lucia Ludat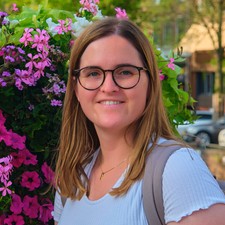 SSP Stratigraphy, Sedimentology and Palaeontology
The 2023 Outstanding Student and PhD candidate Presentation (OSPP) Award is awarded to Alina Lucia Ludat for the poster/PICO entitled:
Tectonic faulting's impact on vegetation and soil formation in the Mara River Basin, East Africa (Ludat, A. L.; Kübler, S.)
Click here to download the poster/PICO file.
Alina Ludat is a PhD candidate in the Department of Earth and Environmental Sciences at the LMU Munich, Germany. Prior to this, she gained a master's degree in Geology from the University of Munich. Her master's thesis research revolved around understanding the response of vegetation and soils to active faulting, and the implications of this for ecosystem stability. In her awarded EGU presentation, she used multispectral satellite data and digital elevation models to demonstrate the connection between tectonic activity and location of healthy vegetation. For her PhD thesis she is now building a continent-scale geological model of vertical motion using geochronology, thermochronology and remote sensing methods.