Sarah Hồ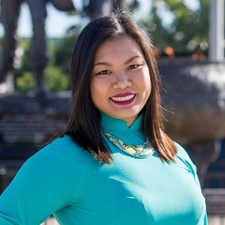 NH Natural Hazards
The 2023 Outstanding Student and PhD candidate Presentation (OSPP) Award is awarded to Sarah Hồ for the poster/PICO entitled:
A Comparison of Agriculture-related Characteristics of Flash and Traditional Drought (Hồ, S. Q. G.; Buras, A.; Tuo, Y.)
Click here to download the poster/PICO file.
Sarah Quỳnh Giang Hồ is a PhD student at the Institue for Water and River Basin Management at the Karlsruhe Institute of Technology, Germany. Her research interests are centered around drought and its impact on water resources. Her dissertation is on the potential usage of flood reservoirs in southern Germany for drought protection.