Sofie Tiedeck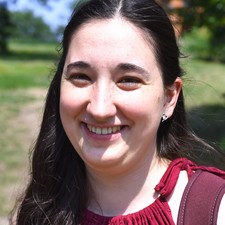 AS Atmospheric Sciences
The 2023 Outstanding Student and PhD candidate Presentation (OSPP) Award is awarded to Sofie Tiedeck for the poster/PICO entitled:
Impact of Atmospheric Rivers on the Arctic Surface Energy Budget (Tiedeck, S.; Kirbus, B.; Lauer, M.; Crewell, S.; Gorodetskaya, I.; Rinke, A.)
Click here to download the poster/PICO file.
Sofie Tiedeck is a PhD candidate at the Alfred Wegener Institute in Potsdam, Germany, in the section of atmospheric physics. Her project is part of the Transregional Collaborative Research Center "ArctiC Amplification: Climate Relevant Atmospheric and SurfaCe Processes, and Feedback Mechanisms (AC)3" and aims firstly to quantify the impact of Atmospheric Rivers on the surface energy budget and secondly, to understand the air mass transformation processes during such events. Sofie combines reanalysis data, model sensitivity studies, observations as well as trajectory calculations for complementary analyses of case studies and climatology.